Global Inventory of Highly Enriched Uranium 2020
(Data: End of 2018)
Click on the list image to see details.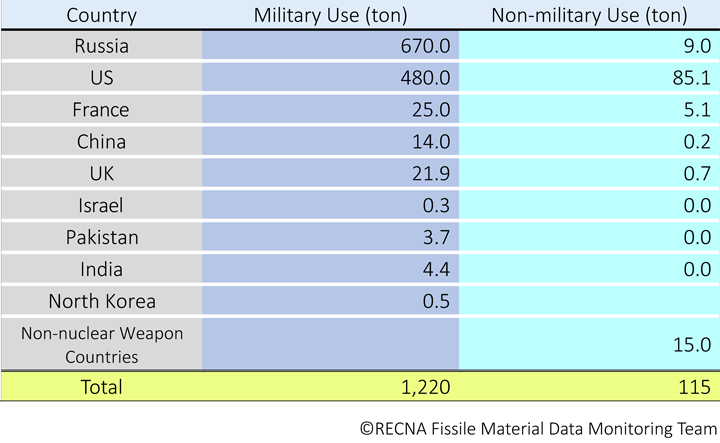 Military: HEU used in nuclear warheads or stored for use in weapons; HEU used in reactor fuel for naval nuclear propulsion (including spent fuel)
Non-military: HEU used in fuel for research and testing reactors; HEU declared as surplus for military purposes.
The stockpile of fissile materials includes estimated ones with large uncertainties and thus total quantities are expressed in rounded numbers.
【Source】
International Panel on Fissile Materials (IPFM),"Fissile Material Stocks", May 2020, http://fissilematerials.org/
Pavel Podvig and Ryan Snyder, "Watch Them Go: Simplifying the Elimination of Fissile Materials and Nuclear Weapons", August 15, 2019. United Nations Institute for Disarmament Research (UNIDIR).
https://unidir.org/publication/watch-them-go-simplifying-elimination-fissile-materials-and-nuclear-weapons
David Von Hippel, "Methods for Refining Estimates of Cumulative DPRK Uranium Production" (PSNA-WP-8), May 27, 2020.
https://www.recna.nagasaki-u.ac.jp/recna/psna2020workingpaper/%e3%80%90may-27-2019%e3%80%91methods-for-refining-estimates-of-cumulative-drpk-uranium-production-psna-wp-8
Harold A. Feiveson, Alexander Glaser, Zia Mian, & Frank von Hippel: "Unmaking the Bomb," MIT Press, 2014.
Communication Received from Japan Concerning its Policies Regarding the Management of Plutonium (INFCIRC/549/Add.1-22), 28 August, 2019.
https://www.iaea.org/sites/default/files/publications/documents/infcircs/1998/infcir549a1-22.pdf
Communication Received from Germany Concerning its Policies Regarding the Management of Plutonium (INFCIRC/549/Add.2-22), 12 September 2019.
https://www.iaea.org/sites/default/files/publications/documents/infcircs/1998/infcirc549a2-22.pdf
Communication Received from Belgium Concerning its Policies Regarding the Management of Plutonium (INFCIRC/549/Add.3-19), 18 May 2020.
https://www.iaea.org/sites/default/files/publications/documents/infcircs/1998/infcirc549a3-19.pdf
Communication Received from Switzerland Concerning its Policies Regarding the Management of Plutonium (INFCIRC/549/Add.4-23), 1 March 2019.
https://www.iaea.org/sites/default/files/publications/documents/infcircs/1998/infcirc549a4-23.pdf
Communication Received from France Concerning its Policies Regarding the Management of Plutonium (INFCIRC/549/Add.5-23), 28 August 2019.
https://www.iaea.org/sites/default/files/publications/documents/infcircs/1998/infcirc549a5-23.pdf
Communication Received from France Concerning its Policies Regarding the Management of Plutonium (INFCIRC/549/Add.6-22), 28 August 2019.
https://www.iaea.org/sites/default/files/publications/documents/infcircs/1998/infcirc549a6-22.pdf
Communication Received from China Concerning its Policies Regarding the Management of Plutonium (INFCIRC/549/Add.7-16). 18 October 2017.
https://www.iaea.org/sites/default/files/publications/documents/infcircs/1998/infcirc549a7-16.pdf
Communication Received from the United Kingdom Concerning its Policies Regarding the Management of Plutonium (INFCIRC/549/Add.8-22), 23 October 2019.
https://www.iaea.org/sites/default/files/publications/documents/infcircs/1998/infcirc549a8-22.pdf
Communication Received from the Russian Federation Concerning its Policies Regarding the Management of Plutonium (INFCIRC/549/Add.9-21), 5 November 2019.
https://www.iaea.org/sites/default/files/publications/documents/infcircs/1998/infcirc549a9-21.pdf