2023年9月23日
Winners of the 2nd Essay Contest Announced
  [JPN]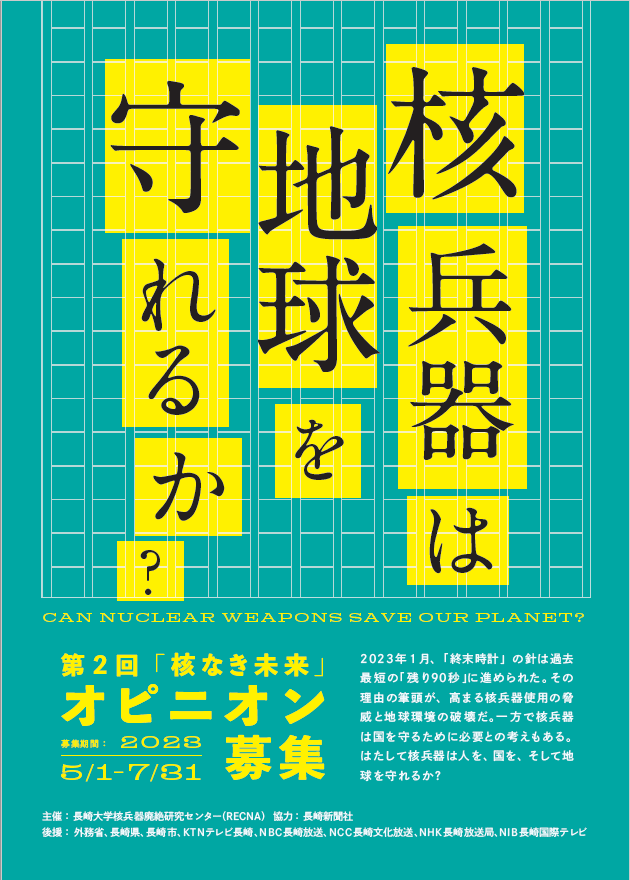 The Research Center for Nuclear Weapons Abolition, Nagasaki University (RECNA) held a call for "opinions" applying to the 2nd Essay Contest on "Nuclear Weapons and Our Future", with the aim of raising awareness of the importance of nuclear weapons issues among the younger generation and fostering human resources who can contribute to the realization of a peaceful international society.
We are pleased to announce that we have selected one Grand Prize winner and one Second Prize winner in each of the U-20 (16 to 20 years old) and U-30 (20 to 30 years old) divisions.
[⇒ 2nd Essay Contest Award Ceremony]


【 Winners: 2 Grand Prize Winners, 2 Second Prize Winners 】
* Age at time of application.
U-20: Grand Prize

 
 
Minako Baba(17 years old)

Sophomore at Seiwa Jogakuin High School. Lives in Sasebo City, Nagasaki Prefecture.

U-30: Grand Prize

 
 
Adiya Kerimbayeva(27 years old)

Nagasaki University Graduate School of Biomedical Sciences, Disaster and Radiation Medicine, 2nd year of Master course. Lives in Nagasaki City, Nagasaki Prefecture.
I am from Kazakhstan. I was born and raised in a small town, which is historically known for being located near a nuclear test site that existed under the Soviet Union. Since I was a child I wanted to become a doctor to save people's lives, so I went to the Semey Medical University in Kazakhstan, finished my bachelor's degree and internship in general medicine, after which I entered the master's program of "Disaster and Radiation Medical Sciences" at Nagasaki University. Now I am continuing my research in this field.

U-20: Second Prize
 
 
Haruka Unno(19 years old)

Sophomore, School of Cultural Planning, Waseda University. Lives in Minato-ku, Tokyo.

U-30: Second Prize
 
Adriana Nazarko(25 years old)

Bowdoin College, International Relations and Asian Studies, Class of 2021. Lives in St. Petersburg, Florida, U.S.A. Lives in Minoh City, Osaka, Japan.
Adriana Nazarko is currently an ALT in Minoh City through the JET program. She completed her bachelor's degree in International Relations and East Asian Studies at Bowdoin College. Her research interests include North Korea's nuclear program, 21st century nuclear deterrence, and US-ROK-Japan trilateral relations. She looks forward to pursuing a career in diplomacy and nuclear nonproliferation.
【 U-20: 20 Finalists excluding winners / 88 Total Applicants 】
【 U-30: 18 Finalists excluding winners / 38 Total Applicants 】