2022年9月24日
Winners of the First Essay Contest Announced
  [JPN]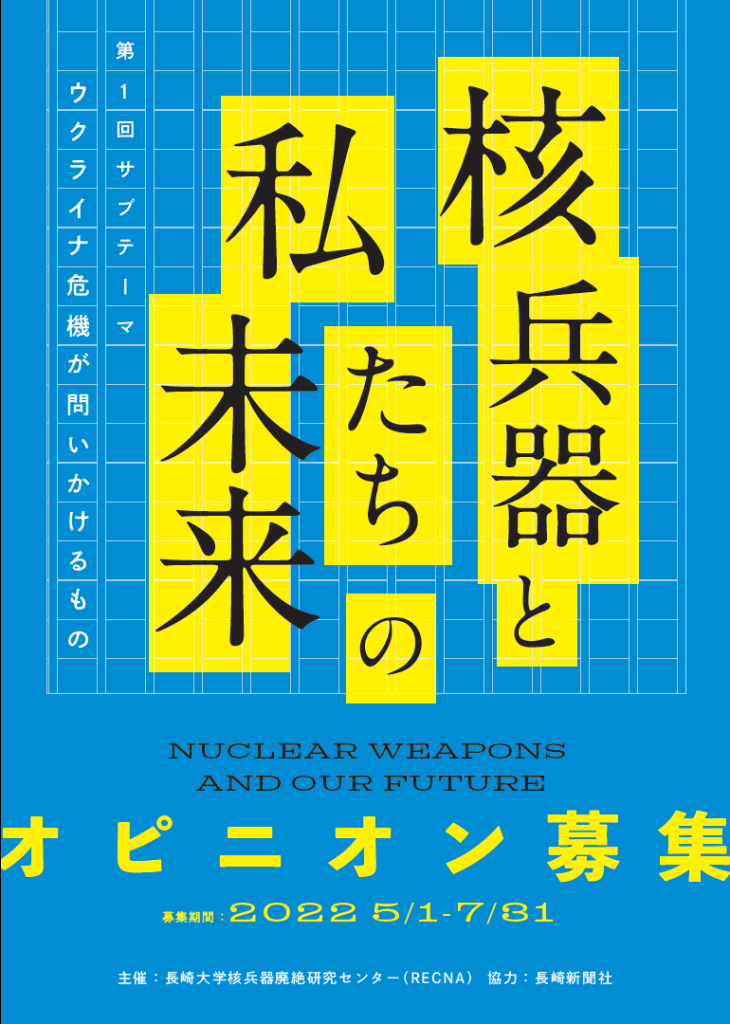 The Research Center for Nuclear Weapons Abolition, Nagasaki University (RECNA) held a call for "opinions" applying to the First Essay Contest on "Nuclear Weapons and Our Future" as one of its 10th anniversary commemorative projects, with the aim of raising awareness of the importance of nuclear weapons issues among the younger generation and fostering human resources who can contribute to the realization of a peaceful international society.
One Grand Prize winner and two Second Prize winners have been selected, and the winners were announced and the Award Ceremony (photos) was held as follows.
The best "opinion" was published in the print version of Nagasaki Shimbun Newspaper on September 25, 2022. This is an article (in Japanese) of the electronic version.


【 Winners: 1 Grand Prize Winner, 2 Second Prize Winners 】
Grand Prize

 
 
Kokoro Nishiyama(23 years old)

Master's course at Middlebury Institute of International Studies, Monterey, USA

Second Prize

 
 
ALOK CHANDAN(26 years old)

PhD Candidate, Department of East Asian Studies, University of Delhi, India

Second Prize

 
Keisuke Aoki(29 years old)

Lives in Tokyo. Company Employee.

【 9 Finalists excluding winners / 54 Total Applicants 】

【 Award Ceremony 】
| | | |
| --- | --- | --- |
| |   | |
| Awarding of the Grand Prize |   | Attendees of the Award Ceremony |
 
 
DATE/TIME:
Saturday, September 24, 2022
 Award Ceremony: 13:00-14:00
 Press Conference: 14:00-14:30
VENUE:
Nagasaki University
PROGRAM:
1. Opening Remarks
 (Dr. Shirabe, Chairman of the Executive Committee for the 10th Anniversary Projects)
2. Announcement of winners, presentation of award certificates & plaques
  Announcement of the Second Prize winners
  (Prof. Seirai, Chair of the Selection Committee)
  Speeches by the Second Prize winners
  Announcement of the Grand Prize winner
  (Prof. Seirai)
  Speech by the Grand Prize winner
3. Comment on the awarded essays
 (Prof. Seirai)
4. Comments by the other members of the Selection Committee
 (Prof. Ishida, Ms. Kojima, Ms. Hatakeyama, Ms. Matsunaga)
5. Closing Remarks
 (Prof. Yoshida, Director of RECNA)
  Photo Session
PRESS CONFERENCE:
Speakers: Prof. Seirai, Award winners
      Prof. Suzuki (Moderator), interpreter