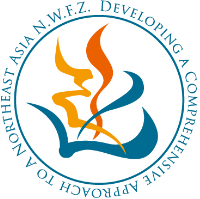 The Logo represents a deformed Chinese character
"出",
which means "exit" or "departure".
Here it symbolizes the "exit" from the nuclear deterrence and
"departure" for a Northeast Asia Nuclear Weapon-Free Zone.
Nagasaki is famous for its port "Dejima(出島)" or
Exit Island, the only port open to overseas
during the period of national isolation in Japanese history.
※Please do not use or change this logo without RECNA's permission.